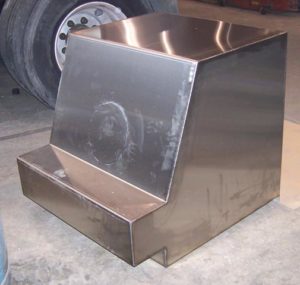 We pride ourselves on the unparalleled flexibility in duplicating existing parts or construction of custom parts.
Bend and shear capability of up to 3/8" mild steel. Stocking a full line of aluminum, stainless steel, and mild steel sheet metal, pipe, angle, channel, box tube, sanitary tubing, ASME certified metals, catwalk, and diamond plate Standard Rolling & Buffalo Roll Capabilities, Punching & Much, Much More…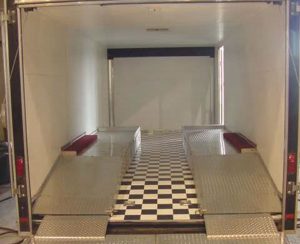 DBL's fabrication department offers unparalleled flexibility in designing, incorporating, and duplicating any part or design to meet our customers' needs. Whether it be a simple light bracket, a customized stainless steel bumper or cabinet, a customized car carrier, specialized parts made to customer specifications, or a complete rebuild of a tandem frame; DBL's fabrication department can get the job done.
Cabinets
DBL offers a full range of cabinets in stainless steel, aluminum, or mild steel. Styles include, but are not limited to; full belly cabinets, gull wing cabinets, box trailer cabinets, utility cabinets, sanitary cabinets, and custom cabinets made to customer specifications. DBL uses only quality hardware on all its cabinets.
Custom Fabrication
DBL's fabrication department is well known for its diversity and ability in making duplicate and customized parts for tank repairs, but our fab department can do much more than this. Whether it be a crunch catcher, specialized petroleum gear, custom car carriers, racks for pick up trucks, or customized cabinets; DBL's fab department offers unparalleled flexibility when it comes to the needs of our customers. For more information on what our fabrication department has to offer you and your company, please call DBL today.
Ladders
Whether it be a standard manufacturer ladder or a customized ladder, DBL can make the ladder that is right for your trailer. Specializing in stainless steel ladders (aluminum and steel ladders also available upon request), DBL stocks ladder parts from Polar, Brenner, Walker, and Tremcar. Is your ladder damaged? DBL can duplicate parts to fix your ladder instead of having to completely replace it.